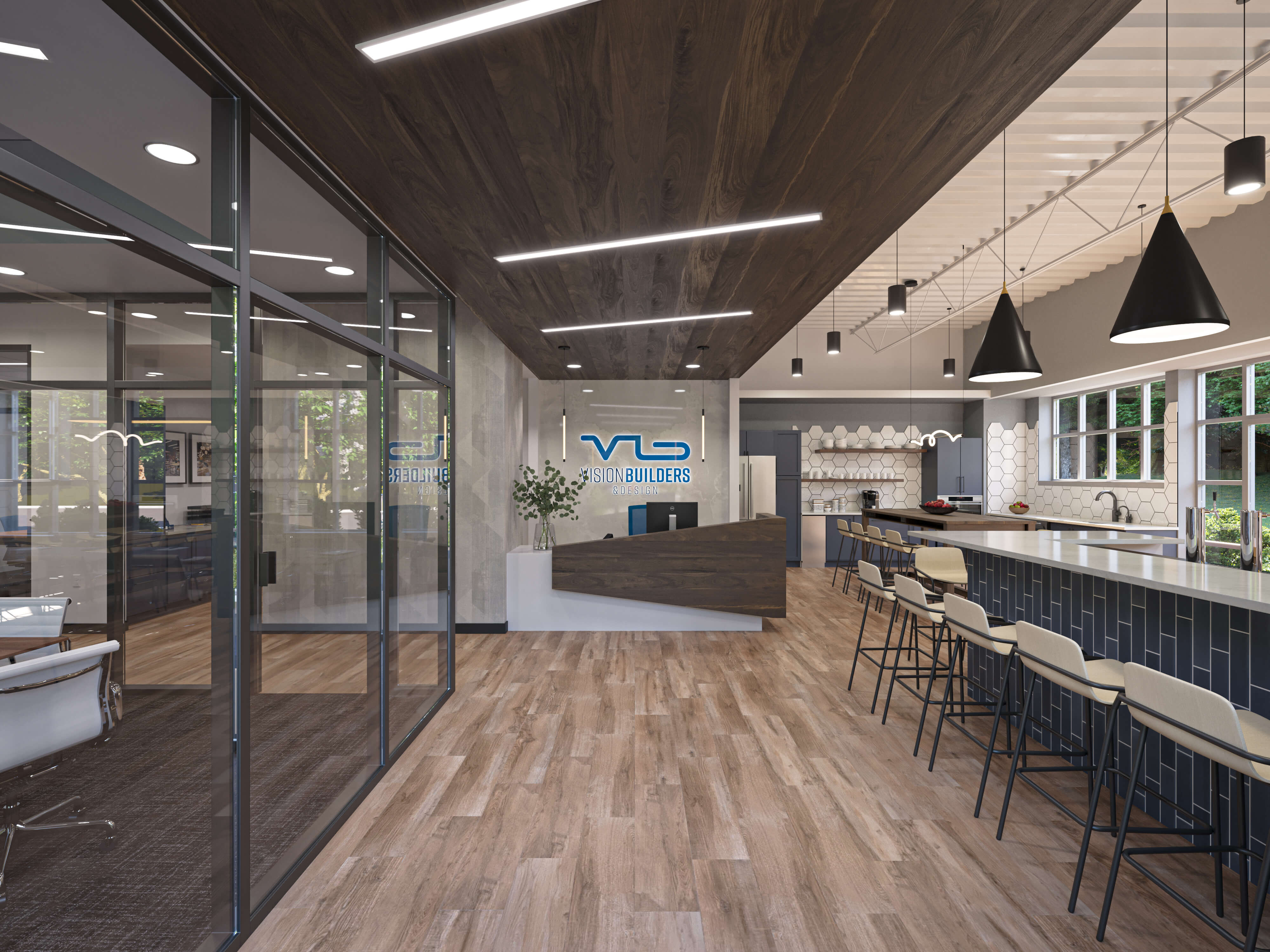 VisionBuilders Office | Charlotte, NC
The renovation and upfit of VisionBuilders Design's corporate office.
VisArch and our sister-company VisionBuilders Design joined forces to undertake a comprehensive design project, resulting in the creation of a new office space for VisionBuilders. The office underwent a complete renovation due to foundation issues, which involved installing helical piers throughout the building. The previous layout, with its high partitions and office walls, was deconstructed to embrace a more innovative and open concept. The new office spans approximately 4,400 square feet and incorporates flexible workstations, promoting adaptability and collaboration.
One of the standout features of the redesigned office is the welcoming entrance area, which includes a foodservice space showcasing a show kitchen and pizza oven. This design element not only enhances the office's aesthetic appeal but also provides a unique experience for visitors, aligning with VisionBuilders' brand identity. Acoustics played a significant role in the design, with careful consideration given to materials to ensure appropriate sound levels for calls and meetings in the open office environment.
Furthermore, the office design incorporates multiple collaborative areas, encouraging teamwork and interaction among team members. A lean and efficient physical library was also created, tailored to VisionBuilders' specific needs and operations, featuring custom millwork design. Lighting and signage choices were carefully made to reflect the company's brand and provide clients with a showroom-like experience, showcasing a range of materials, colors, and product lines commonly used in VisionBuilders' projects.
Overall, the newly redesigned office space enables VisionBuilders to accommodate their growth while better serving their clients. The thoughtful integration of conferencing areas, collaborative spaces, and an accessible library enhances their ability to provide top-notch service and create a productive work environment.